Master Italian artist Luigi Rincicotti was born in Fano in Italy in 1941 and is one of Europe's outstanding contemporary surrealist artists. His style is unique and almost instantly recognisable.
The eye of Louis Rincicotti belongs to fable. This is why the characters of his paintings are dipped in a light fairy tale. Certainly the Italian Quattrocento contribute greatly to the atmosphere of his paintings, as well as his long time residence in Venice; the atmospheric appearance of his paintings is central to his style, his characters apparently naive and ironic, actually seeing and perceiving the drama of progressive alienation that day after day dehumanizes the life of people in society.

The paintings of Louis Rincicotti are full of sumptuous and redundant symbols, memories and presences that refer to metaphysical experiences, and that are influenced by surrealism and symbolist painting. For Rincicotti art is primarily a figurative expression, but the contents reveal an abstract conception of reality. Ie they are the result of visions and mental processes that reflect moods, emotions, fears, feelings. He tells us about his life, revisiting the places of his childhood, bringing to the forefront of the picture the games of the child and the adult figures that have given meaning to his existence, but also cats, owls, fish and mysterious figures in search of an identity. There is in his painting the metaphysical sense of a reality that is revealed as a disturbing sight, suspended in space and time: different reasons coexist within the canvas while finding their own harmony, conveying a sense of "likelihood" that you only feel when you dream, where only in dreams the images that appear seem real and possible, so as to create possible in us the strongest emotions. (continued below)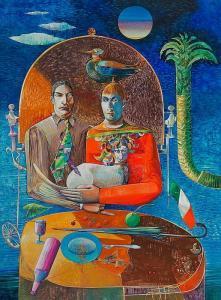 He has held over 200 solo exhibitions in Italy and abroad, and has won more than 50 national and international awards including: Milan 1961 International Triennial (1st Prize); Florence 1964 International Handicrafts (2nd Prize); Venice 1966
XXXIII International Art Biennale, Venice pavilion (1st Prize); Barcelona 1971, Third Biennial Internacional de Porte en Las Bellas Artes (1st Prize among 760 artists from 36 countries participating); Rome 1972 Biennale International Art Oderisi from Gubbio (1st Prize for painting); Sassoferrato 1972 XXIII Award
International GB Salvi and Little Europe (1st Prize for painting); Ibiza (Spain) 1972 International Biennial of Graphic Arts (Award acquired by the Museum of Modern Graphic Ibiza); Eraclea 1978 National Prize of Eraclea (1st Prize); San Marino 1979 Award National Art Serravalle (1st Prize); received in Salsomaggiore Terme, in recognition of his artistic career, the "Centaur gold in 1976, "he represented Italy at the IV Bienal Internacional del Deporte en Las Bellas Artes in Madrid with ten paintings by large format, two of which are purchased by the Ministry of Sports;
present with three major works at the second last Quadrennial of Rome; 1977 at the exhibition of contemporary graphic Museum National Messina; 1983 Triveneta arts at Villa Simes on Brenta; present in 1979 to Triveneta graphics, Palazzo Vendramin
Calergi, Venice; UNICEF, Torino 1979 International Exhibition of art; present at the international exhibition "Art in humor" – Talentino, 1983; Pieve di Amici Theatre Falling Falling – Department of Tourism, Forty graphic works 1991; Personal 4th Mediterranean Festival dei Due Mari – Altomante (Cosenza), 1991;
"Mélancolie du Jour" Personal Palace of the Masks, Regency Seven Towns Culture Department Asiago (VI), 1991; Museum International Contemporary Art Surrealist Municipality Gallipoli, Lecce, 1998; APT Jesolo Venice & Body Body, 1998;
Bangkok, Thailand, Carpediem Galleries 1997; Portogruaro Venice, Crossing Art Club 1998.
Graphic and pictorial works included in the following public collections: Moderna Musset in Stockholm; Musée d'Art Moderne de Paris; Museum of Modern Art in New York; Museo de Arte Contemporaneo de Espanol Madrid; National Gallery of Modern Art in Rome; Museum of Figurative Art Pushkin in Moscow; Galleria Civica d'Arte Moderna di Jesi; Gallery Civica d'Arte Moderna of Sassoferrato; Museum of Modern Graphic Ibiza; Museum of Modern Art in Bilbao; Museum of Modern Art Co 'Weigh, Venice; Modern Art Museum of San Republic Marino; Museum of Modern Art in Avezzano (L'Aquila); Art Museum Modern Faenza; Museum of Modern Art in Altomonte (Cosenza), Museum Bailo Treviso; Museum of Modernity of Filottrano (Marches); Museum of Contemporary Graphic Benghazi (Tripoli). Museum Diocesan of Contemporary Art in Jesi (Ancona); Museum
Ceramic-Cottoveneto (Treviso).